I worked an Adidas commercial yesterday! The theme is Derrick Rose's triumphant return for another season w/ the Bulls, so we all piled in to the United Center and lost our shit whenever they yelled "action!" There weren't enough of us (obviously) to fill the United Center, which has a capacity of about 20,000, so they took some stills and videos of us in a couple of different spots in the stands, which they will then digitally replicate to fill the stands. They gave us various props, like signs, drinks, or boxes of popcorn to hold (and I actually ate a *lot* of the popcorn after discovering it was actually fresh and not treated with anything weird). Some extras got their faces painted too (some guys got their whole faces painted red and white, and a few girls got bulls painted on their foreheads or cheeks). For my part, I just wore a cute Bulls v-neck t-shirt that I borrowed from my sister. :) For the part when Derrick Rose actually enters the stadium from the tunnel, I was right at the end of the tunnel in the front row of the bleachers, so I got to high-five Derrick Rose multiple times yesterday! He seems like a nice, chill, professional dude. I think he was only there for about an hour or two though, and for the rest of the time, there was a photo double. The Luvabulls joined us for a while, and Benny the Bull was there too, to wave the Bulls flag for the commercial and to otherwise entertain us when the cameras weren't rolling. Add to that getting paid a modest fee for the day, two free meals and lots of snacks, a souvenir to take home (I got a Bulls cap), meeting some interesting people like the digital marketing lead for Adidas and a young, enthusiastic aspiring Luvabull, and getting to read a bunch (one of my fave ways to pass the time) during downtime, and it made for a pretty good day, :).

People occasionally asked me yesterday what-all stuff I've worked on as an extra, and it occurred to me that I haven't really listed it out in a long time and was in real danger of forgetting, so I'll just list my experiences here and add to the list occasionally so I don't forget. My first experience was volunteer; the rest were paid:

2007: Batman, The Dark Knight (action scene in alley--volunteer w/ proceeds going to Dave Eggers' 826CHI)
2008: WWE Cyber Sunday with C.M. Punk commercial and print ad

I'm pretty sure I didn't do anything in 2009...then the casting agencies starting announcing a ton of jobs on FB and I started regularly seeing more opportunities.

2010:
Source Code (running across the Michigan Avenue bridge following emergency evacuation due to a bomb threat)
The Dilemma (the Smith & Wollensky restaurant scene and the car show scene at McCormick Place)
Contagion (press conference scene with CDC workers)

2011: Did I seriously do nothing in 2011? I honestly don't recall doing anything in 2011. (I realize now that I went to Turkey and Vegas during my breaks from school so that would have put a big dent in my availability; makes sense.)

2012:
Starz's "Boss" (weekday church scene)
MTV's "Underemployed" (outdoor food truck scene, restaurant lunch scene, and bar/restaurant nighttime scene, all filmed in one day...and later a tequila launch party scene filmed over two days)
National Louis University commercial (students in library)
Adidas commercial (fan in stands)

I hope to be able to add more to this list, but for now it's back to the grind with school! I can't believe how quickly the fall semester is coming, and I still have so much to do to prepare for it! Eek.
So, I can't talk too much about this on FB, Twitter, etc. because I signed a non-disclosure agreement, but I figure if I leave out key words in the subject line and post to a wasteland like LJ, no one will notice (especially if I don't post pics).


Yancy proposed to me yesterday! I was *completely* taken by surprise! He really pulled it off; I'm still reeling. He had been planning it for a while but managed to tell NO ONE except his old boss and a coworker from CD Warehouse (now PMac Music), where Yancy worked in our college days (and also where he and I met since I was a frequent customer there...and he also first asked me out there).

Anyway, after a weekend in Missouri visiting with his family for the holidays, we were headed home yesterday (Monday, 12/19). Yancy planned on stopping in Cape Girardeau (where we both met in college) so we could visit with his old bosses, Paul and Peg, and drop off some gifts for them (some craft beers for Paul and a little Chardonney for Peg), and so Yancy could unload some old CD's. We get there, and Yancy and Paul are catching up, Paul is checking in his CD's, etc. (Peg is out running errands), and I decide to wander around the store after saying 'hi.' I end up near the comedy DVD's and CD's, checking out what's in stock. Yancy comes over and says, "Oh look, this is one of the first CD's I ever ordered for you here." Sure enough, we're right by the "S's" in the pop/rock section (which is weird because no one told me to stand over there but the comedy stuff happened to be right near there), and Yancy pulls out John Stewart's Bombs Away Dream Babies, which I had ordered back in the late 90's during my Stevie Nicks/Fleetwood Mac obsessive phase. The album is produced by Lindsey Buckingham and has a really good duet between John Stewart and Stevie Nicks, called "Gold." The album cover is Stewart playing guitar, and a single red rose attached to the guitar.

Yancy pulls out the CD for me to look at and I say, "oh yeah, wow, look at that," like a moron. Then he opens the CD, and in it is an insert that says, in red cursive, "Lisa, will you marry me?" On the other side is a PMac logo with a mouse in a Santa hat that says, "This gift certificate entitles the recipient to one engagement ring." At first I only half-looked at the insert and started to say, "Hunh, someone left a note in here and the girl's name is Lisa, what a weird coincidence, what does it s...?" and I was thinking, "who the heck would leave a personal note in here before selling their CD to a used CD store?"--but at some point my brain caught up with what was happening, and I realized that the note was a proposal, and it was intended for me! It helped that Yancy was starting to get down on one knee. At that point my brain kinda turned off completely and I forget what all I said but I know "really?!" was in there somewhere and I also managed a "yes!" LOL

So anyway, we're engaged now! Woo! Yancy wanted to wait for the ring because he wants me to pick it out, so we're going shopping this Thursday, :).

He later told me that when he came to pick me up and I was finishing up packing to go down to Missouri with him, he went rummaging through my CD's and found "Bombs Away Dream Babies," then packed it in with the rest of the CD's he was gonna sell to Paul. He also had the order form from like, 12 years ago, which he had saved (I had completely forgotten my old dorm address and phone number, and there it was along with the titles of two CD's I had ordered, one of them being Bombs Away Dream Babies). He showed me the form after I said yes and I couldn't believe he had saved it for all those years. When he got to the store after that weekend of seeing a whole bunch of family and telling NO ONE (that was tough for him, but we couldn't time the visit in Cape Girardeau for the way down; we had to do it on the way back up), he handed Paul the box of stuff and Paul started going through it...once I wandered off, he handed Paul the CD and they frantically inserted the PMac graphic gift certificate thing, and Paul gave the CD back to Yancy. When Yancy saw that I was looking at stuff right near the S's in the pop/rock section (but with my back turned to them), he decided to just stealthily insert the CD exactly where it would be alphabetically and then nonchalantly point it out to me, and he let the rest take care of itself. I'm marrying a clever guy! LOL I hope Yancy's ok with marrying an oblivious ditz, :).

So yeah, I'm still kind of in shock, but *thinnnngs aaarrre happeninnnngg.* Gonna have to get used to calling Yancy my fiance now (and eventually my husband, wow) instead of my boyfriend!

Hope everyone is enjoying the holidays so far!
I know barely anyone reads this these days, but I figured this news warrants a once-in-a-blue-moon post.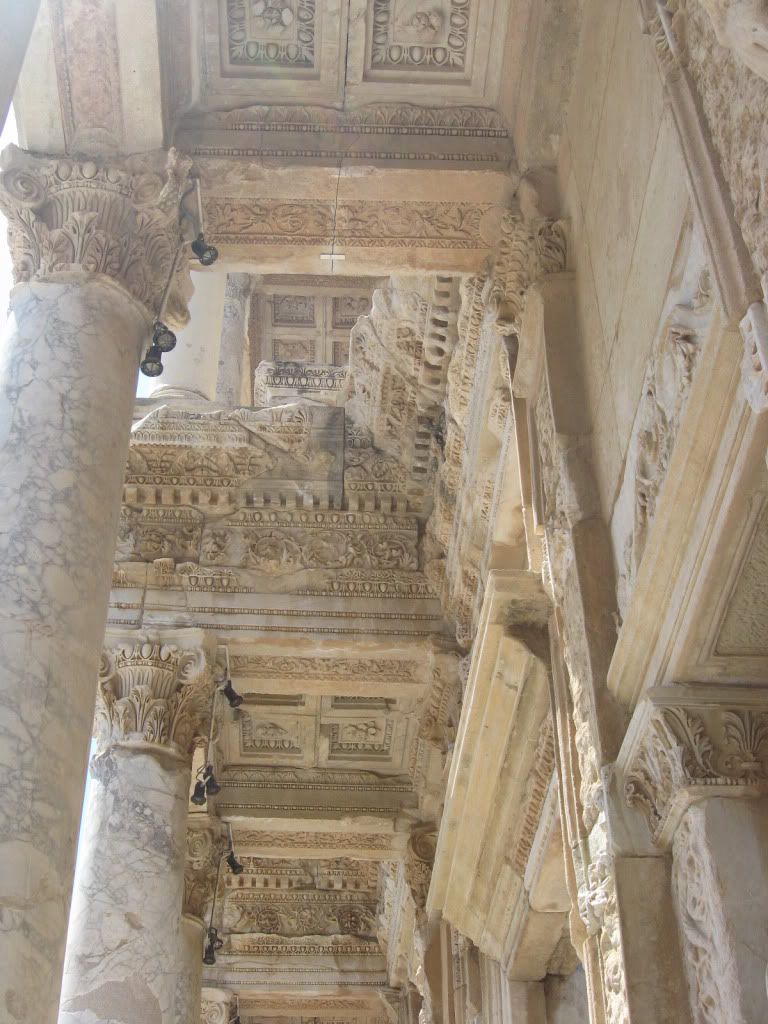 Under the facade of the library at Ephesus (home of Greek philosopher Heraclitus and later the capital of Roman Asia Minor).
(
More stuff under here.
Collapse
)
Well, that concludes my Turkey tripologue. I still feel like I'm leaving out a ton of information about Turkey: my general impressions, the daily call-to-prayers, what the public restrooms were like, some of the Turkish words I learned, etc. I learned a lot about Turkey that gradually became ingrained so that now I take it for granted. If you're curious about anything, just ask! Otherwise, I hope you had a nice reading/viewing experience. Farewell for now, :).
Ok, I realize no one has time to read this stuff anyway, so I'm gonna try to sum up the last 5 or so days of the trip in one long-ass post. Probably a little ambitious of me. Here's a little taste:
A shot of Antalya's old harbor town, with the Mediterranean and some mountains in the background.
More pics
(
under the cut
Collapse
)
Well, I think that's about it for Antalya...coming up is another strange landscape, this time at Pamukkale (where we also got to check out more ruins), then it was on to Ephesus. Hope you're enjoying the on-line travel journal so far.
Antalya is a beautiful beach resort town on the southern coast of Turkey, along the Mediterranean Sea. According to Levent, it caters mainly to Russian, German, and Arabic tourists. After driving down the entire length of central Turkey and seeing so many sites, chilling out here was a welcome respite! And we were lucky enough to get TWO nights here, which was sweet.
Here's a shot of a whirling dervish ceremony we saw one afternoon while still staying in Nevsihir (at Peri Tower, in the Cappadocia region). The whirling dervishes are a religious sect which believe that the circle is a perfect shape, and when meditating in order to get closer to God, spinning in a circle is a natural expression of closeness with the Supreme Being (it's somewhat akin to speaking in tongues, as believers just start doing it when the spirit moves them). During this ceremony, some of the members of the sect played instruments while others walked slowly in a circle before finally beginning to twirl. The twirling was not a fast, crazy spectacle; it was actually somewhat slow and hypnotic/mesmerizing. I actually found myself nodding off during the ceremony. Fun fact (told to us by Levent and I cannot verify its accuracy): Madonna tried to join the sect in order to learn the dancing of the whirling dervishes, but she was turned down because her intent was believed to be more about performance and less about religion. So I guess she'll just have to stick with Kabbalah, ;). After the ceremony, we got to explore the area (which was a kervansaray) and enjoy some apple tea, which is an almost ubiquitous traditional Turkish drink that I enjoyed many times on the trip (it tastes like crisp, not-too-sweet heated apple juice). Pictures of the road to Konya, and some ruins at Aspendos and Perge on the way to Antalya
(
under the cut--so look here if you're skipping the text.
Collapse
)
Time to say goodbye to Perge--Antalya awaits! (so stay tuned)
Yo. Posting all about the Turkey trip is getting exhausting. So many of the ruins, kervansarays, and madrasas/mausoleums/museums are running together! It was a fairly exhausting 14 days of nonstop action, and my attention span was pretty weak at times. But there were so many amazing places and things to see.
The whole gang at the outdoor museum of Goreme.
After Ankara, we headed down to one of the most anticipated parts of the trip, the Cappadocia region in central Turkey. This region is characterized by its landscape and what early Christians made of it. Due to some volcanic eruptions, soft rock--hardened and then eroded by many years of wind and rain--have formed a strange, almost otherworldly landscape of tower-like structures nicknamed "fairy chimneys" by the locals. Early Christians carved into these structures and made churches as well as dwellings. Some of the interior walls and ceilings of the rock chapels have been decorated with frescoes, which we were able to view at the outdoor museum of Goreme, though unfortunately we weren't allowed to take pictures of the inside of the churches. Also included in this post is the underground city of Ozkonak, where early Christians burrowed to hide from attackers. We also got to tour the facilities of some leaders in Turkish pottery and textiles. Finally, there are pics of an optional excursion: a sunrise hot air balloon ride over much of the region. Out of the 42 of us, I think about 12 of us decided to do this--and there are no regrets among us! Everything's
(
under the cut.
Collapse
)
Examples of some stuff we did while on the road (and pics of that and Ankara)
(
under the cut.
Collapse
)
I think that's probably enough pics for now; I was planning on combining this with the pics from Nevsihir/Cappadocia, but I'm now realizing that was an insane idea. Stay tuned!
So, once we left Gordion, we continued on toward Ankara, the capital of Turkey. I guess now would be a good time to admit that if you want to see a lot of Turkey, you're gonna need to do a lot of driving. Often our days consisted of getting up at the hotel, having breakfast and loading the bus with our luggage, doing something touristy in the morning at the current city, then driving out to the next destination with a lunch stop and something touristy on the way, then getting to the next main city and getting settled into the next hotel, having dinner, etc. If there was time, we'd do something touristy in the new city too before dinner/free time/bedtime. But it seemed we were always on the go!
(
More about the bath and the town of Bursa
Collapse
)
After leaving Bursa the next day, we headed toward Ankara (Turkey's capital city) with a stop in Gordion, which is the home of the tomb of King Midas and the legend of the Gordion knot. Since you're already probably going blind by now, I won't type out all the info here; there's always Google and Wikipedia if you're interested, ;).
(
Just a few pics of the museum and tomb
Collapse
)
Ok, I'm spent for now--next up is Ankara!
After Istanbul, all 42 of us, plus our tour guide, Levent, and our bus driver extraordinaire, Baki, loaded onto the bus (and then a ferry, and then the bus again) and headed to Bursa. I was surprised by the terrain of Bursa; it's very hilly and green and actually reminded me of being in the Pyrenees mountains in the south of France, in towns like Aux-les-Thermes back when I visited David and Mark. Our hotel in Bursa was actually built on top of an authentic Turkish bath--instead of tearing it down, they just built around it and decided to keep it as an amenity for the guests (for a price). My hotel room ended up being right down the hall from the bath, so I couldn't resist trying it. Other adventurous souls from our group included Lynn and Ken from Australia, and Mandra and John from Minnesota.
Turkey fun fact
#1
: It straddles both Europe and Asia (specifically in the city of Istanbul, which is separated into the European side and the Asian side by the Bosphorus River). Our guide, Levent, described the cosmopolitan, more expensive European side as "New York City," while the populous but sprawling, less city-like Asian part would be "New Jersey." LOL Istanbul was the first city we spent time in (I landed in Ataturk airport in Istanbul, and that was also where the journey ended after two weeks).
(
Pictures w/ occasional explanations
Collapse
)
Ok, that'll do for now, but that only covers my first two days in Turkey, so I'll be back! Up next is Bursa and our harrowing (not really) experience with an authentic Turkish bath, then Ankara, the capital of Turkey, with its nationalistic pride and award-winning museums...then a true highlight of the trip, Nevsihir and the Cappodocia region.
So, from May 13th to May 27th of this past spring, I decided to fly off to Turkey for a couple of weeks to see what I could see. I met up with a tour group once I arrived, and the adventure began. I have no idea where to even start...I went to 10 different cities and took over 1000 pictures. I'll do my best to not just ramble.